Historical Society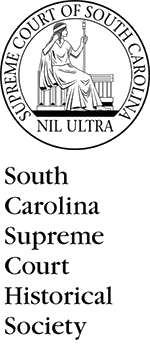 The South Carolina Supreme Court Historical Society is a special project of the South Carolina Bar Foundation. One of the Society's biggest objectives is to provide periodic colloquia that focus on a particular theme. Bar members are invited to become members of the Society and provide support for these critical educational capsules.
Periodically, the Society:
Sponsors events
Offers published works associated with events or with subjects related to the history of the South Carolina Supreme Court. To see a sneak peak of published work, click here.
Creates e-publications on matters of interest for members only.
If you are interested in the Oral History Collection, please click here. Alice T. Beckett and Richard E. Fields interviews can be found in hard copy format at the South Caroliniana Library.